Objective
Illuminate how Centres for Teaching and Learning, and equivalent entities addressed and plan to address trends and issues in digital learning in the context of educational disruption caused by COVID-19.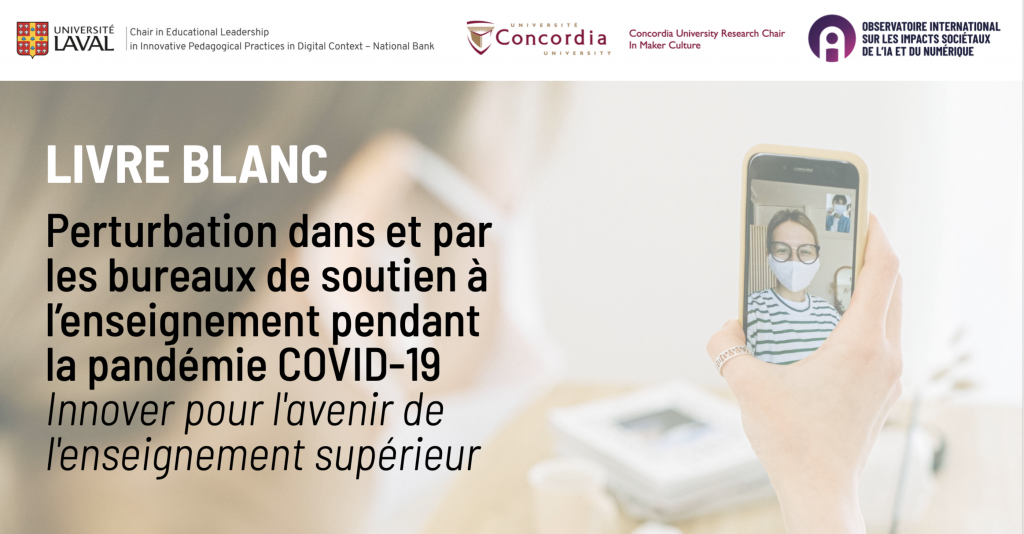 Aujourd'hui, la communauté éducative dans son ensemble est confrontée à un défi universel : se préparer à l'ère de la post-pandémie-COVID-19. Ce défi signifie qu'il faut assurer un enseignement équitable et de qualité ainsi qu'une évaluation efficace et efficiente de l'apprentissage selon des modalités hybrides, flexibles ou entièrement à distance. En outre, les bureaux de soutien à l'enseignement (BSE) jouent un rôle essentiel pour relever et surmonter ce défi.
Ce livre blanc met en lumière la manière dont les BSE, les centres d'enseignement et d'apprentissage et les entités équivalentes ont abordé et prévoient d'aborder les tendances et les problèmes de l'apprentissage numérique dans le contexte de la perturbation de l'enseignement causée par la COVID-19. Il commence par un aperçu du rôle traditionnel que les BSE et les entités équivalentes ont joué depuis leur création dans les établissements d'enseignement. Il décrit ensuite comment ce rôle a évolué pour devenir les premiers intervenants académiques dans le contexte de la pandémie COVID-19. Le document se poursuit par une discussion approfondie sur les défis auxquels les BSE ont été confrontés depuis l'éruption de la pandémie en mars 2020 et ceux qu'ils anticipent pour les semestres à venir. Il énumère également des exemples concrets de mesures qu'ils ont prises pour faire face à ces défis. En outre, il fournit des informations détaillées sur une action majeure entreprise par tous, à savoir le partage public d'une abondance de ressources pour soutenir le corps enseignant et les étudiants pendant la transition en ligne. Cette discussion met en évidence les ressources pertinentes en matière d'équité.
La dernière section de ce document présente les leçons apprises et les recommandations des centres aux centres, ainsi que les commentaires d'experts et de chercheurs du domaine avec des idées et des approches adaptées au mandat actuel des centres pour les aider à mieux faire face à ce qui s'en vient. Les recommandations de ce livre blanc s'appliquent aux établissements d'enseignement, aux membres du corps enseignant, aux étudiants et aux décideurs politiques.
Ce livre blanc a été préparé dans le cadre des travaux de l'Observatoire international sur les impacts sociétaux de l'IA et du numérique (OBVIA) sur les effets des systèmes d'intelligence artificielle et des outils numériques déployés pour lutter contre la propagation de la COVID-19 sur les sociétés soutenus par les Fonds de recherche du Québec (FRQ), et soutenu par la Chaire de leadership en enseignement (CLE) sur les pratiques pédagogiques innovantes en contexte numérique – Banque Nationale, la Chaire de recherche « Maker Culture » de l'Université Concordia.
Nadia Naffi PhD, Université Laval, Canada
Ann-Louise Davidson PhD, Concordia University, Canada
Roger Kaufman PhD, Florida State University, USA
Richard E (Dick) Clark PhD, University of Southern California, USA
Brian Beatty PhD, San Francisco State University, USA
Didier Paquelin PhD, Université Laval, Canada
Dawn M. Snyder PhD, Dawn Snyder Associates, USA
Guy Wallace, EPPIC Inc, USA
Azeneth Patino, Université Laval, Canada
Edem Gbetoglo, Université Laval, Canada
Nathalie Duponsel, Concordia University, Canada
Céleste Savoie, Université Laval, Canada
Isabelle Fournel, Université Laval, Canada
Ivan Ruby, Concordia University, Canada
Barbar Akle PhD, Lebanese American University, Lebanon
Fawzi Baroud PhD, UNESCO & Notre Dame University, Lebanon
Tony Bates PhD, Ryerson University & Contact Nord, Canada
Brian Beatty PhD, San Francisco State University, USA
Richard E (Dick) Clark PhD, University of Southern California, USA
Ann-Louise Davidson PhD, Concordia University, Canada
Chris Dede PhD, Harvard University, USA
Julie Desjardins PhD, Université de Sherbrooke, Canada
Rula Diab PhD, Lebanese American University, Lebanon
Moira Fischbacher-Smith PhD, University of Glasgow, UK
Aline Germain-Rutherford PhD, University of Ottawa, Canada
David Hornsby PhD, Carleton University, Canada
Roger Kaufman PhD, Florida State University, USA
Jaymie Koroluk, Carleton University, Canada
Hubert Lalande, University of Ottawa, Canada
Patrick Lyons, Carleton University, Canada
Florian Meyer PhD, Université de Sherbrooke, Canada
Nadia Naffi PHD, Université Laval, Canada
Didier Paquelin PhD, Université Laval, Canada
Richard Pinet, University of Ottawa, Canada
Annie Pilote PhD, Université Laval, Canada
Dragana Polovina-Vukovic, Carleton University, Canada
Bart Rienties PhD, Open University, UK
Dawn M. Snyder PhD, Dawn Snyder Associates, USA
Roland van Oostveen PhD, Ontario Tech University, Canada
Guy Wallace, EPPIC Inc, USA
Laura Winer PhD, McGill University, Canada
Barbar Akle, Assistant Provost for Special External Projects, Center for Innovative Learning, Lebanese American University, Lebanon
Fawzi Baroud, Assistant Vice President for Information Technology, UNESCO Chair on Open Educational Resources, Notre Dame University-Louaize, Lebanon
John Bentley, Senior Instructional Developer, Centre for Teaching and Learning, Concordia University, Canada
Florence Bézier, Director, Centre de services et de ressources en technopédagogie, Faculty of Education, Faculty of Music, Faculty of Development, Architecture, Art and Design, Université Laval, Canada
Denis Bouchard, Chief Administrative Officer, Teaching and Learning Support Service (TLSS), University of Ottawa, Canada
Saouma Boujaoude, Director, Center for Teaching and Learning & Associate Dean of Faculty of Arts and Science, American University of Beirut, Lebanon
Ana-Paula Correia, Director of the Center on Education and Training for Employment, Ohio State University, USA
Rula Diab, Assistant Provost for Academic Affairs, Center for Innovative Learning, Lebanese American University, Lebanon
Alain Erdmer, Director General, Teaching and Learning Support Service (TLSS), Director, Centre for Innovative Technologies in Education (CITE), University of Ottawa, Canada
Linda Fergusson-Kolmes, Teaching & Learning Center Coordinator, Portland Community College, Sylvania, USA
Moira Fischbacher-Smith, Vice-Principal, Learning and Teaching, University of Glasgow, UK
Teresa Focarile, Assistant Director for Educational Development, Center for Teaching and Learning, Boise State University, USA
Nicolas Gagnon, Director, Service de soutien à l'enseignement, Université Laval, Canada
David Hornsby, Associate Vice-President Teaching and Learning, Carleton University, Canada
Hubert Lalande, Manager, Digital Development, Teaching and Learning Support Service (TLSS), University of Ottawa, Canada
Maude Lamoureux, Instructional Designer and Consultant, RÉCIT de l'enseignement privé, Canada
France Legault, Instructional Designer and Consultant, RÉCIT de l'enseignement privé, Canada
Benjamin Lille, Instructional Designer and Consultant, RÉCIT de l'enseignement privé, Canada
Patrick Lyons, Director, Teaching and Learning Services, Carleton University, Canada
Florian Meyer, Director, Pôle d'innovation technopédagogique, Université de Sherbrooke, Canada
Sara Pax, Vice Provost of Academic Affairs, The American Business School of Paris, France
Guillaume Pelletier, Instructional Designer and Consultant, RÉCIT de l'enseignement privé, Canada
Richard Pinet, Director, Centre for Innovative Pedagogies and Digital Learning, University of Ottawa, Canada
Jean-Paul Remillieux, Director, Instructor Services & Educational Technologies, McGill School of Continuing Studies, McGill, Canada
Stéphane Roux, General Director, Service de soutien à la formation, Division Director, Développement pédagogique, Université de Sherbrooke, Canada
Isabelle Senécal, Director, Pedagogical Innovation, Collège Sainte-Anne, Canada
Shantell Strickland-Davis, Executive Director, Center for Teaching and Learning Excellence, Online Learning Administrator, Central Piedmont Community College, USA
Laura R. Winer, Director, Teaching and Learning Services, McGill University, Canada
Référence
Naffi, N., Davidson, A.-L., Kaufman, R., Clark, R. E., Beatty, B., Paquelin, D., Snyder, D. M., Wallace, G., Patino, A., Gbetoglo, E., Duponsel, N., Savoie, C., Fournel, I., & Ruby, I. (2020, août). Disruption in and by Centres for Teaching and Learning During the Covid-19 Pandemic Leading the Future of Higher Ed. Observatoire international sur les impacts sociétaux de l'IA et du numérique (OBVIA). https://www.docdroid.net/L0khasC/whitepaper-disruption-in-and-by-centres-for-teaching-and-learning-during-the-covid-19-pandemic-leading-the-future-of-higher-ed-21-08-2020-pdf