Completed – Disruption in and by Centres for Teaching and Learning During the Covid-19 Pandemic _ Leading the Future of Higher Ed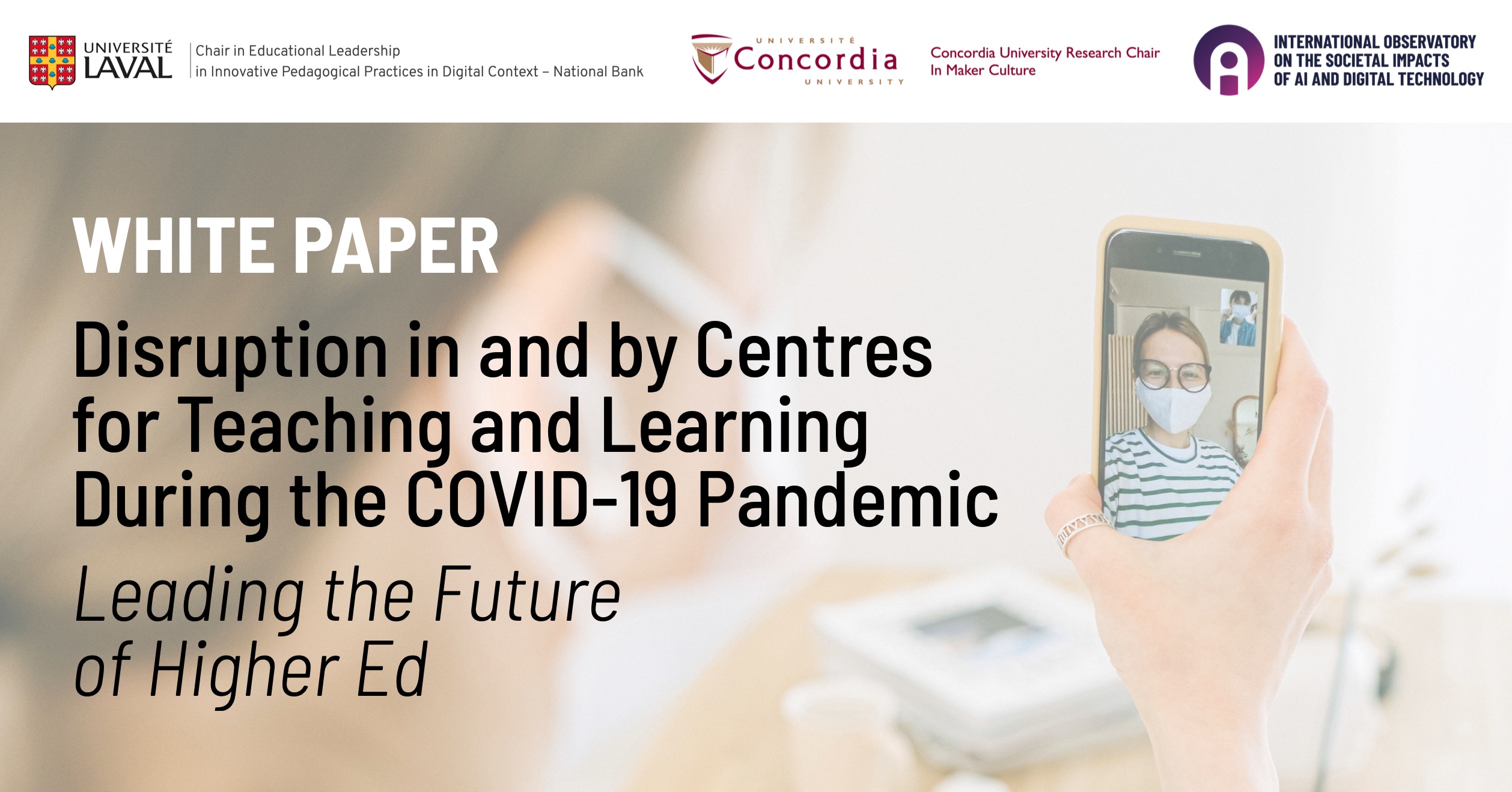 Objective
Illuminate how Centres for Teaching and Learning, and equivalent entities addressed and plan to address trends and issues in digital learning in the context of educational disruption caused by COVID-19
Today the educational community as a whole faces a universal challenge: to ensure equitable and quality education as well as effective and efficient evaluation of student learning in hybrid, flexible or 100% distance modalities for their students. In addition, we must also plan for the post-COVID-19 pandemic era. Centres for Teaching and Learning play a pivotal function in addressing and overcoming this challenge.
This white paper illuminates how Centres for Teaching and Learning, and equivalent entities addressed and plan to address trends and issues in digital learning in the context of educational disruption caused by COVID-19. It begins by presenting an overview of the traditional role the CTLs and equivalent entities have played since their inception in educational institutions. It then describes how this role evolved into academic first responders in the context of the COVID-19 pandemic. The paper continues with a thorough discussion about the challenges the centres faced since the eruption of the pandemic in March 2020 and the ones they anticipate in the coming semesters. It also lists concrete examples of actions they took to face these challenges. In addition, it provides detailed information on one major action taken by all; that is, publicly sharing an abundance of resources to support faculty and students during the online transition. This discussion spotlights resources relevant to equity.
The last section of this paper shares lessons learned and recommendations from the centres to the centres in addition to commentaries by experts and researchers from the field with ideas and approaches geared to the current mandate of the centres to help them better face what is coming. The benefits from this white paper extend to educational institutions, faculty members, students and policy makers.
This white paper was produced as a part of the research project of the International Observatory on the societal impacts of AI and digital technology (OBVIA) regarding the societal effects of A.I. systems and digital tools deployed to combat the spread of COVID-19 and funding by the Québec Research Funds (FRQ).
This white paper was supported by Université Laval's Chair in Educational Leadership in Innovative Pedagogical Practices in Digital Context – National Bank and Concordia University Research Chair in Maker Culture.
Lead Researcher
Nadia Naffi PhD, Université Laval, Canada
Co-Researchers
Ann-Louise Davidson PhD, Concordia University, Canada
Roger Kaufman PhD, Florida State University, USA
Richard E (Dick) Clark PhD, University of Southern California, USA
Brian Beatty PhD, San Francisco State University, USA
Didier Paquelin PhD, Université Laval, Canada
Collaborators
Dawn M. Snyder PhD, Dawn Snyder Associates, USA
Guy Wallace, EPPIC Inc, USA
Research Assistants
Azeneth Patino, Université Laval, Canada
Edem Gbetoglo, Université Laval, Canada
Nathalie Duponsel, Concordia University, Canada
Céleste Savoie, Université Laval, Canada
Isabelle Fournel, Université Laval, Canada
Ivan Ruby, Concordia University, Canada
Commentary Authors (By Alphabetical Order)
Barbar Akle PhD, Lebanese American University, Lebanon
Fawzi Baroud PhD, UNESCO & Notre Dame University, Lebanon
Tony Bates PhD, Ryerson University & Contact Nord, Canada
Brian Beatty PhD, San Francisco State University, USA
Richard E (Dick) Clark PhD, University of Southern California, USA
Ann-Louise Davidson PhD, Concordia University, Canada
Chris Dede PhD, Harvard University, USA
Julie Desjardins PhD, Université de Sherbrooke, Canada
Rula Diab PhD, Lebanese American University, Lebanon
Moira Fischbacher-Smith PhD, University of Glasgow, UK
Aline Germain-Rutherford PhD, University of Ottawa, Canada
David Hornsby PhD, Carleton University, Canada
Roger Kaufman PhD, Florida State University, USA
Jaymie Koroluk, Carleton University, Canada
Hubert Lalande, University of Ottawa, Canada
Patrick Lyons, Carleton University, Canada
Florian Meyer PhD, Université de Sherbrooke, Canada
Nadia Naffi PHD, Université Laval, Canada
Didier Paquelin PhD, Université Laval, Canada
Richard Pinet, University of Ottawa, Canada
Annie Pilote PhD, Université Laval, Canada
Dragana Polovina-Vukovic, Carleton University, Canada
Bart Rienties PhD, Open University, UK
Dawn M. Snyder PhD, Dawn Snyder Associates, USA
Roland van Oostveen PhD, Ontario Tech University, Canada
Guy Wallace, EPPIC Inc, USA
Laura Winer PhD, McGill University, Canada
Participating Centres – List of Centres Representatives
Barbar Akle, Assistant Provost for Special External Projects, Center for Innovative Learning, Lebanese American University, Lebanon
Fawzi Baroud, Assistant Vice President for Information Technology, UNESCO Chair on Open Educational Resources, Notre Dame University-Louaize, Lebanon
John Bentley, Senior Instructional Developer, Centre for Teaching and Learning, Concordia University, Canada
Florence Bézier, Director, Centre de services et de ressources en technopédagogie, Faculty of Education, Faculty of Music, Faculty of Development, Architecture, Art and Design, Université Laval, Canada
Denis Bouchard, Chief Administrative Officer, Teaching and Learning Support Service (TLSS), University of Ottawa, Canada
Saouma Boujaoude, Director, Center for Teaching and Learning & Associate Dean of Faculty of Arts and Science, American University of Beirut, Lebanon
Ana-Paula Correia, Director of the Center on Education and Training for Employment, Ohio State University, USA
Rula Diab, Assistant Provost for Academic Affairs, Center for Innovative Learning, Lebanese American University, Lebanon
Alain Erdmer, Director General, Teaching and Learning Support Service (TLSS), Director, Centre for Innovative Technologies in Education (CITE), University of Ottawa, Canada
Linda Fergusson-Kolmes, Teaching & Learning Center Coordinator, Portland Community College, Sylvania, USA
Moira Fischbacher-Smith, Vice-Principal, Learning and Teaching, University of Glasgow, UK
Teresa Focarile, Assistant Director for Educational Development, Center for Teaching and Learning, Boise State University, USA
Nicolas Gagnon, Director, Service de soutien à l'enseignement, Université Laval, Canada
David Hornsby, Associate Vice-President Teaching and Learning, Carleton University, Canada
Hubert Lalande, Manager, Digital Development, Teaching and Learning Support Service (TLSS), University of Ottawa, Canada
Maude Lamoureux, Instructional Designer and Consultant, RÉCIT de l'enseignement privé, Canada
France Legault, Instructional Designer and Consultant, RÉCIT de l'enseignement privé, Canada
Benjamin Lille, Instructional Designer and Consultant, RÉCIT de l'enseignement privé, Canada
Patrick Lyons, Director, Teaching and Learning Services, Carleton University, Canada
Florian Meyer, Director, Pôle d'innovation technopédagogique, Université de Sherbrooke, Canada
Sara Pax, Vice Provost of Academic Affairs, The American Business School of Paris, France
Guillaume Pelletier, Instructional Designer and Consultant, RÉCIT de l'enseignement privé, Canada
Richard Pinet, Director, Centre for Innovative Pedagogies and Digital Learning, University of Ottawa, Canada
Jean-Paul Remillieux, Director, Instructor Services & Educational Technologies, McGill School of Continuing Studies, McGill, Canada
Stéphane Roux, General Director, Service de soutien à la formation, Division Director, Développement pédagogique, Université de Sherbrooke, Canada
Isabelle Senécal, Director, Pedagogical Innovation, Collège Sainte-Anne, Canada
Shantell Strickland-Davis, Executive Director, Center for Teaching and Learning Excellence, Online Learning Administrator, Central Piedmont Community College, USA
Laura R. Winer, Director, Teaching and Learning Services, McGill University, Canada
Reference
Naffi, N., Davidson, A.-L., Kaufman, R., Clark, R. E., Beatty, B., Paquelin, D., Snyder, D. M., Wallace, G., Patino, A., Gbetoglo, E., Duponsel, N., Savoie, C., Fournel, I., & Ruby, I. (2020, August). Disruption in and by Centres for Teaching and Learning During the Covid-19 Pandemic Leading the Future of Higher Ed. Observatoire international sur les impacts sociétaux de l'IA et du numérique (OBVIA). https://www.docdroid.net/L0khasC/whitepaper-disruption-in-and-by-centres-for-teaching-and-learning-during-the-covid-19-pandemic-leading-the-future-of-higher-ed-21-08-2020-pdf
Grant