October 2, 2020
Following the publication of the white paper: Disruption in and by Centres for Teaching and Learning During the COVID-19 Pandemic – Leading the Future of Higher Education, the Chair in Educational Leadership in Innovative Pedagogical Practices in Digital Contexts – National Bank, held by Dr. Nadia Naffi, and the International Observatory on the Societal Impact of AI and Digital Technologies co-organized the online symposium: Leading the Future of Higher Ed – Planning for Sustainability. The objective was to discuss concrete present and future steps given the uncertainty imposed by the COVID-19 pandemic with 18 key experts and decision-makers in higher education from Canada, the USA, the UK, and Lebanon.
Open to all / Ouvert à tous
This symposium was organized in collaboration with Concordia Research Chair in Maker Culture, and moderated by Dr. Ann-Louise Davidson, Concordia University, Dr. Richard E (Dick) Clark, University of Southern California, Dr. Dawn M. Snyder, Dawn Snyder Associates, Franklin University and The Ohio State University, and Dr. Brian Beatty, San Francisco State University.
02 October 2020 / Octobre 02 2020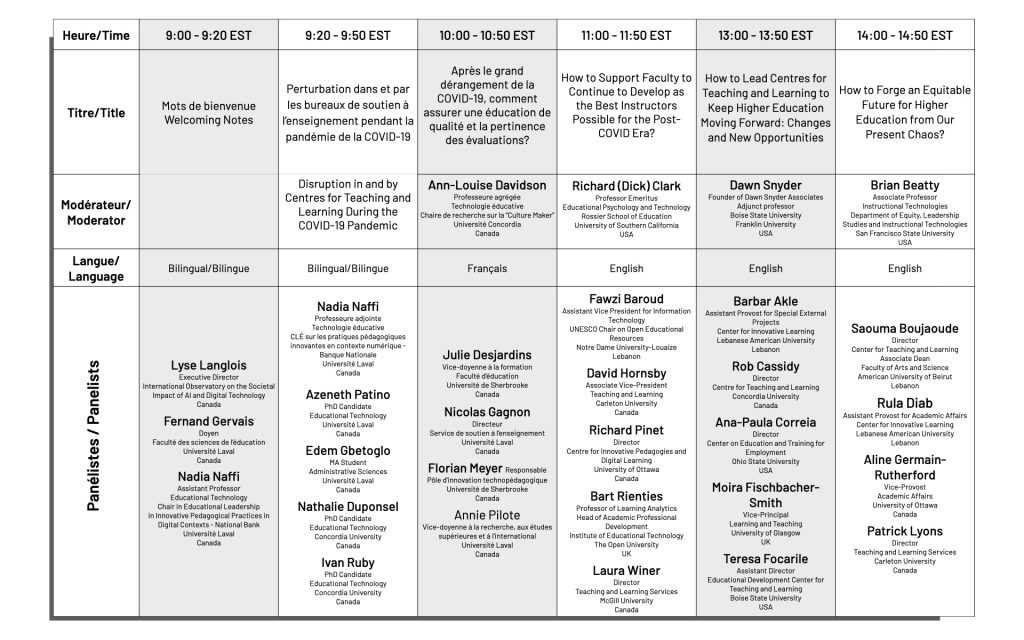 ---
---
---