2 octobre 2020
À la suite de la publication du Livre-blanc Perturbation dans et par les bureaux de soutien à l'enseignement pendant la pandémie COVID-19 – Innover pour l'avenir de l'enseignement supérieur la Chaire de leadership en enseignement (CLE) sur les pratiques pédagogiques innovantes en contexte numérique – Banque Nationale dont est titulaire la professeure Nadia Naffi et l'OBVIA ont co-organisé le symposium en ligne « Leading the Future of Higher Ed – Planning for Sustainability ». L'objectif était de discuter des mesures concrètes, présentes et futures, compte tenu de l'incertitude imposée par la pandémie COVID-19 avec 18 experts et décideurs clés de l'enseignement supérieur du Canada, des États-Unis, du Royaume-Uni et du Liban.
Ouvert à tous / Open to all
Cette activité a été organisée en collaboration avec la Chaire de recherche « Maker Culture » de l'Université Concordia, et modérée par Ann-Louise Davidson, Université Concordia, Richard E (Dick) Clark, University of Southern California, Dawn M. Snyder, Dawn Snyder Associates, Franklin University et The Ohio State University, et Brian Beatty, San Francisco State University.
Octobre 02 2020 / 02 October 2020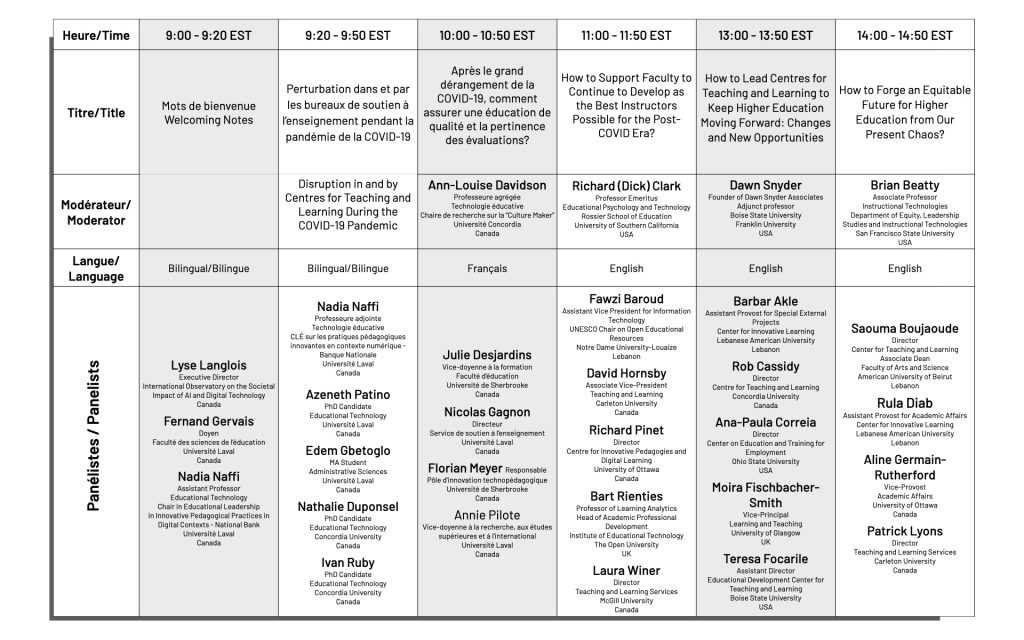 ---
---
---